Book Contents

Round 1 - Boxing History Via Knockout

Round 2 - Ring Magazine
Enters World War II

Round 3 - Fayette's Greatest Fighter

Round 4 - West Coast Sensation

Round 5 - Top Contender

Round 6 - The Mob

Round 7 - Fitzie the Heavyweight

Round 8 - The Comeback

Round 9 - The Final Years

Round 10 - Fitzie Stories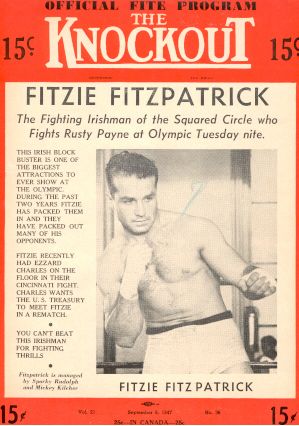 Pugilist, Hilton "Fitzie" Fitzpatrick,



the colorful swashbuckling two- fisted fighter who was a one-man riot fought out of Los Angeles in the 40's, was world ranked and top contender for the Heavyweight crown held by Joe Louis. Harry Winkler of Ring Magazine tabbed Fitzie as " the greatest two-handed puncher since Jack Dempsey."


Fitzie Fitzpatrick was acclaimed by many boxing experts as one of the most thrilling battlers of all time. The blazing West Virginian scored one of the world's quickest knockouts in ring history on January 2, 1945, at the Los Angeles Olympic Auditorium. Fitzpatrick, a knockout artist won forty-seven bouts, with thirty-one knockouts. He was the number one light - heavyweight contender of the world, September 1945.

Fitzie attended Romney School for the Deaf where he was a two-time All American football player. Other honors included: Golden Glove State Champion, West Virginia Boxing Hall of Fame, Boxing Hall of Fame USA Deaf Sports Federation, and Honorary Member of Boys Town.


TOUGH TIMES NEVER LAST
TOUGH PEOPLE DO
Fitzie Fitzpatrick was world ranked for seven years, by Ring Magazine. He was often compared with the fighting style of middleweight champ Mickey Walker, attacking force of Jack Dempsey, aggressive movement of Joe Frazer, and the knockout power of Rocky Marciano. Earning eighteen first round knockouts, Fitzie once said, " I'll take two punches so I can land one hard one."

Fitzie Fitzpatrick was the greatest puncher-boxer ever to come out of Fayette County, and the State of West Virginia. Despite his size and hearing handicap, he overcame many obstacles, achieving fame for himself and honor for his state.

Fitzie gave the boxing world the color and thrills, displaying ring sportsmanship as a warrior, in a great American sport.




To see part one of Fitzpatrick v.s Kahut click here!
To see the second part of the film clip of this fight click here!