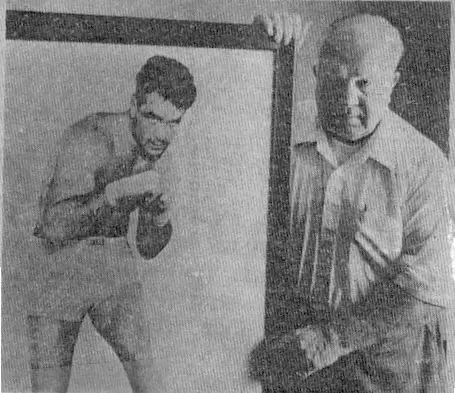 Hilton "Fitzie"
Fitzpatrick
Fitzie Fitzpatrick, a fighter and warrior in the world of boxing, illustrated and defined the life and career of a true champion. Winning a competition or a series of events and holding on to first place is only part of what it takes to be a champion in any sports event.
Every June, the International Boxing Hall of Fame holds its annual sports convention in New York, where inductees are forever enshrined in the world of boxing. I dream and desire to be part of next year's activities. I hope to hear the name of Fitzie Fitzpatrick added to the list of the many great fighters of his time. This final victory for the Irish Blockbuster would exemplify a career Fitzie would be proud of.
Larry C. Burton
World's Quickest
Stoppages
Knockouts Under Thirty – Seconds
When it comes to Modern World Boxing Records,
Fitzie Fitzpatrick is top on the list.
Of the top one hundred knockouts under thirty seconds, Fitzpatrick is only second to Jack Dempsey and Shannon Briggs. Dempsey, "Top Kayo King," has recorded four kayos under the wire, and Briggs, who recently passed Fitzpatrick, has three knockouts. As of today, Fitzie is 66th and 89th on the list. There are only a handful of fighters that have more than one knockout in less than thirty seconds.
Fitzie Fitzpatrick VS. Gregorio Gonzales
January 2, 1945
Gonzales kayoed in 0.23 seconds
Fitzie Fitzpatrick VS. Ernie Rios
January 8, 1946
Rios kayoed in 0.29 seconds
View Top 100 Knockouts
The Irish Blockbuster
Fitzie Fitzpatrick was the greatest puncher-boxer ever to come out of Fayette County and the state of West Virginia. He gave the boxing world the color, knockout thrills, and displayed ring sportsmanship as a true champion in a great American sport.