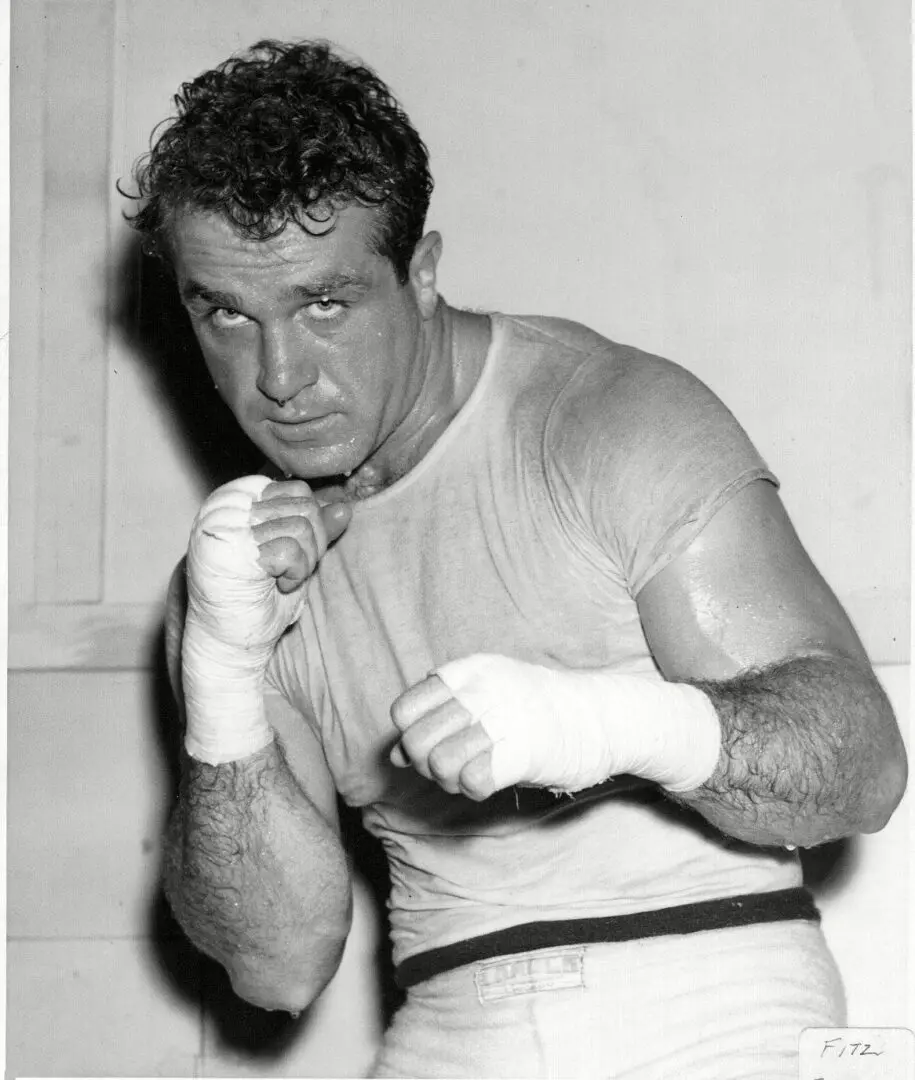 Fitzie Fitzpatrick:
The Irish Blockbuster Boxer
Irish Blockbuster, Fitzie Fitzpatrick, fought his first heavyweight bout on January 10, 1945. On November 26, 1946, Fitzie became a full-time heavyweight, fighting Lee Oma, who weighed in at 190 lbs. At first, he was glad to move up in weight, but now he was fighting the big guys. Cutting weight and maintaining the lower weight needed to compete in the light heavyweight division was a real battle for the Irish bruiser. Two months later, he would knock out Pat Valentino but would not be ranked in the heavyweight division until his next victory over top-ranked Lee Savold. Fitzie was outweighed by twenty-four pounds and would win the ten-round decisions. During the following months, Ring Magazine placed Fitzie eighth in the heavyweight division. Fitzie went on to win four straight bouts as a heavyweight before losing to Bobby Zander, on May 13, 1947. Ezzard Charles, who fought his first heavyweight bout against Fitzie Fitzpatrick, was next on the list. They fought twice, Charles winning bout engagements. Fitzie went on to box world-ranked fighters; Rusty Payne, Leonard Morrow, and Bob Foxworth.
The following photos of Fitzie's heavyweight bouts show him demonstrating his devastating punching power, which always made him a knockout threat.
Larry C. Burton
Related links on Ezzard Charles
Cyber Boxing Zone - Ezzard Charles
Ezzard Charles had great boxing skills and fought with a killer instinct. After being sidestepped for title bouts in the Light-Heavyweight division, Charles quickly entered the heavyweight division and challenged the Fitzpatrick camp. It was commonly agreed that the winner would get a shot at the heavyweight title and Joe Louis.
Rocky Marciano once said to Charles, "I couldn't put you down, and I don't think any man can." Fitzie Fitzpatrick made his Cincinnati debut against Ezzard Charles at Crosley Field before a crowd that paid twenty-seven thousand dollars, who watched Fitzie go out and belt the local favorite, dropping him in the second round of their first of two fights. Fitzie had Charles down after landing a terrific right to the jaw, sending Charles through the air and landing on his shoulders and neck. Charles had been hit hard and was hurt, but he managed to rally and win the fight.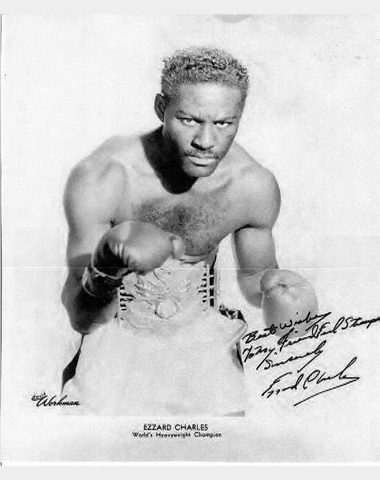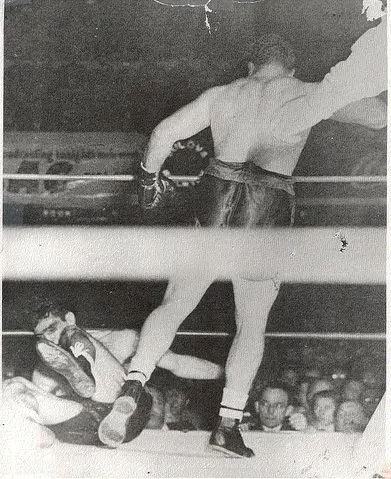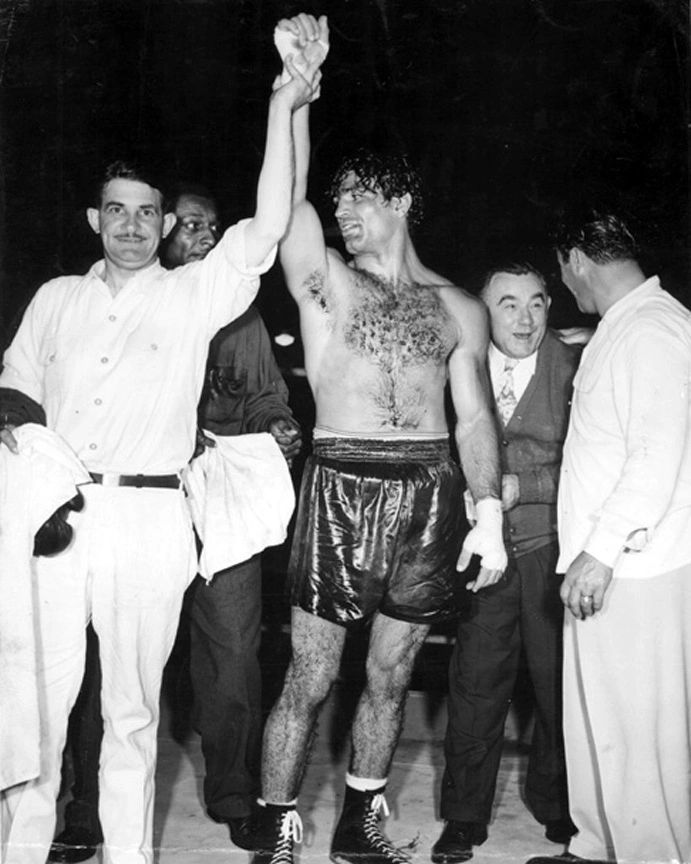 Related links on Pat Valentino
The Cruelest Sport - Pat Valentino
Military service kept Pat Valentino out of the ring from 1944 to 1946. On his return, Valentino won thirteen straight matches before being kayoed by Fitzie Fitzpatrick. It was a fifth-round victory for the Irish Blockbuster.
Over the next two years, Valentino would go on and fight top-ranked Tony Bosnich, Turkey Thompson, and Ezzard Charles. Unfortunately, Pat Valentino suffered from an eye injury that would eventually end his boxing career. Even with the eye injury, Valentino fought his way to victory, winning the California State Heavyweight title against Turkey Thompson.
An operation to repair his torn retina kept him sidelined for most of 1949. With only four weeks to prepare, Valentino accepted a title fight against Ezzard Charles. After a year off and his eye still healing, Valentino would fulfill his childhood dream.
The NBA title fight was held at Cow Place in San Francisco. The event generated a $167,000 dollar gate. Valentino was a 5-1 underdog and earned a career-high purse of $5,000. Valentino gave Charles all he could handle in the early rounds with vicious body shots. Charles was sharp on his attack and countered with precision. Valentino, showing signs of fatigue, continued his aggressive charges and, in the eighth round, was chopped down before being tagged by Charles right, ending the fight. Valentino was ahead on the scorecard at the time of his collapse. The punishment he took left him completely blind in his right eye.
Several weeks after the Charles fight, Valentino accepted an exhibition bout with Joe Louis. An offer of $7,500 could not keep Valentino from the biggest purse of his career. Blind in one eye and giving up thirty pounds to Louis, Valentino expected little trouble from an exhibition bout. Valentino was told to take it easy, but nobody advised the ex-champ it was an exhibition bout. Valentino said, "The hell with this," and belted Louis around. Louis paid him back with a beating, dropping the Italian in the eighth round. This was Pat Valentino's last fight.