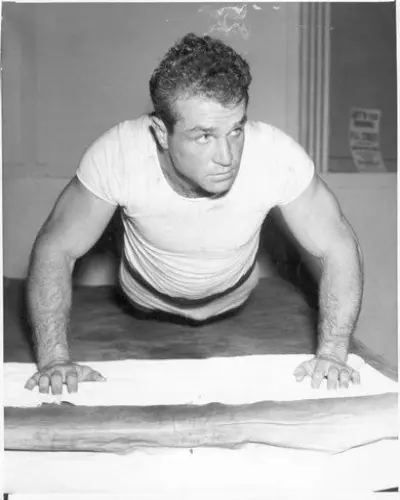 California State
Heavyweight Title
15 Round Bout
Portland Oregon
July 26, 1946
Fitzie Fitzpatrick V.S. Joe Kahut
Both fighters went the distance in their fourth and final match as the hometown favorite won by decision. Fitzpatrick, the smaller fighter using his quick footwork, is consistent in his attack, out-maneuvering Kahut throughout the fight. Although both men missed their targets, avoiding the many wild punches thrown in the event, they fought hard at times. The action was slow but picked up in the later rounds as each fighter smelled victory. It appeared both were going for the knockout in the last couple of rounds, as the power punches added up.
Fitzpatrick was known for his vicious attacks across the ring and knocked out many opponents in their own corners. Fitzpatrick was out of his corner so fast during his fight against Lloyd Marshall, he had to wait for him to get up from his stool. Kahut countered Fitzpatrick's ring strategy by meeting him in the center of the ring at the beginning of each round. Kahut and Fitzpatrick had a similar style of fighting, and Kahut knew how to win against him. If Fitzpatrick had boxed more, utilizing his jab, he might have won all his bouts against Kahut. The film will show his advantage when he worked his jab.
The fight was not filmed in its entirety, as much of the action is broken up. A complete fight film would have been a real treasure.
Joe Kahut was a top contender during the 1940s and a premier main attraction in Portland, Oregon. Joe made his first top-ten ranking after his win over Fitzie Fitzpatrick on October 12th, 1945. In his next fight, Kahut had an opportunity to challenge Light – Heavyweight Champ Gus Lesnevich, who was recently released from military duty. Kahut, still in his prime, gave up a chance to be a world champion as both boys came in over the weight limit of 175 lbs. Lesnevich kayoed Kahut in the first round. Joe never got another title shot.
Joe continued to be successful, ranking in the heavyweight division, fighting guys like, Freddie Beshore, Ezzard Charles, Joey Maxim, Pat Comiskey, Tony Bosnich, and Rex Layne.
Larry C. Burton