This country is the greatest sports nation in the world. Competitive sports, especially boxing, rank among the best. The spirit behind boxing is a never–say–die spirit. A boxer isn't licked until he is either knocked out or beaten.
Hilton "Fitzie" Fitzpatrick had that special spirit and class to win via the knockout route. Fitzie Fitzpatrick fought during boxing's greatest era, starting with Jack Dempsey, the million-dollar man, and his enormous crowd appeal; Joe Louis, the first black champion since Jack Johnson; boxing surviving World War II; the return of world champions to the ring; post–war boxing boom; and the effect of television on the future of boxing.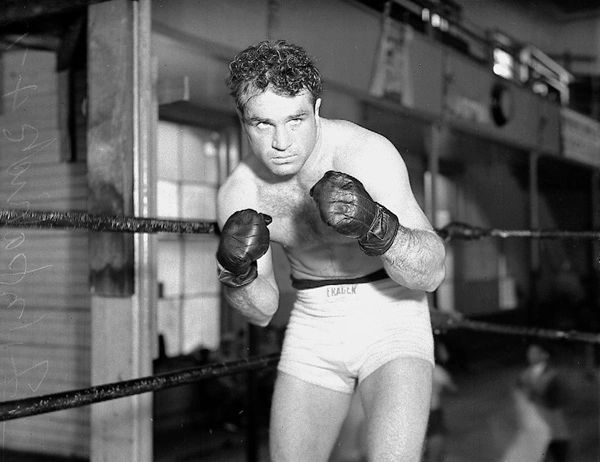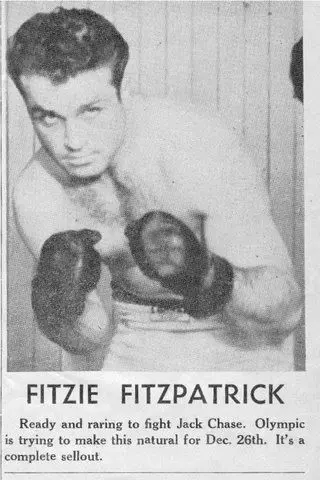 Hilton "Fitzie"
Fitzpatrick
"Thunder puncher," Fitzie Fitzpatrick, fought his way to the top during the greatest era in boxing history!
Fitzie was the greatest boxer and one of the best athletes ever to come out of West Virginia. He surmounted all obstacles and opposition to achieve both fame for himself and honor for his state. Fitzie not only achieved fame and fortune as a boxer, but he also gave the boxing world the color, thrills, and sportsmanship that make it a great American sport. The fortune he achieved, like all wealth, whether it be a coal miner's pay or a business income, is merely temporary and fleeting tangible gold dust, which is carried away and forgotten by the winds of time. Fitzie's fame, however, is a solid gold medal of great achievement, which remains shiny and eternal in life's glorious trophy case of immortal deeds.
Fitzie Fitzpatrick fought at the Los Angeles Olympic Auditorium in front of sold-out crowds. Fitzie was called by many names and was known for his blockbuster punch.
His size and hearing disability may have been tough on him, but it didn't stop him from achieving his desired goal. Fitzie's knockout punching style of fighting was his trademark. Like Marciano, Fitzie would be the aggressor and attack his opponent. The "Clubbing Irishman" once said, "I'll take two punches, so I can land a hard one."
Fitzie attended the Romney School for the Deaf in West Virginia. There he would be a two-time All-American football player. One sports editor once said Fitzpatrick was "the best football player he had ever seen." However, his main achievements lie in the realm of boxing. Fitzie, once called "Tarzan," was West Virginia's Golden Glove Champion in 1941. Mr. F (Fitzie) became internationally famous and was ranked the number one contender in the light-heavyweight division and ranked eighth in the heavyweight division.
During his career, Fitzie had 31 knockouts, eighteen coming in the first round. "The Irish Bruiser" also had one of the world's quickest knockouts in 0.23 seconds. At one time, "Fuming Fitzie" achieved four straight first-round knockouts. There was even a fight in the works to put Fitzie up against the great Joe Louis, but Louis sidestepped the challenge in order to fight a lesser opponent than Fitzie. It was said fighters avoided Fitzie like the plague. Ex- heavyweight champion Ezzard Charles once said, during a WGN radio interview in Chicago, that one of the hardest punches he could remember came from Fitzie Fitzpatrick!
"Fitzie The Fiery" fought during the most exciting era of boxing history. He fought big names like Lloyd Marshall, Lee Oma, Lee Savold, Pat Valentino, Joe Kahut, Leonard Morrow, and Watson Jones. Fitzie battled the Great Ezzard Charles twice. Charles became World Champion in 1949 when he beat Jersey Joe Walcott. In July 1947, Fitzie fought Ezzard Charles at Crosley Field in Cincinnati, Ohio. Fitzie had Charles on the canvas in the second round and would have finished him then and there. Local fans were convinced Fitzie got a "raw deal."
"It broke my heart when I got that dirty deal against Ezzard Charles. Seemed like I couldn't get my mind on training after that. I had Charles when I sent him down. He was in trouble, and everybody knew it. Then, when he knocked me down, I got on one knee and started up when I thought the referee said seven. I couldn't hear him because he was behind me, and the crowd was making an awful lot of noise. When I started after Charles, when I got up, the referee told me the fight was over. I didn't like it a bit, and I wasn't hurt."
Fitzie, like all other top contenders, was not allowed world title shots during World War II, all world champion positions were frozen during that time. Other great fighters were: Joe Louis, Ezzard Charles, Jersey Joe Walcott, Joey Maxim, Archie Moore, Tony Zale, Jake LaMotta, Gus Lesnevich, Ray Robinson, Jimmy Bivins, Willie Pep, and Billy Conn. The list goes on! As the "Maine Event," Fitzie gave the crowd the excitement and thrills they came to see. He was the "Kayo King," a west coast sensation. Hilton "Fitzie" Fitzpatrick will always be best known as "The Irish Blockbuster."
'The Wild Irishman" fought the big guys. Fitzie himself was considered a small heavyweight. He was no taller than five nine and weighed in at 170 to 180 lbs. Fitzie had a devastating overhand right and was quick on his feet. Most of Fitzie's opponents were taller and 10 to 30 lbs heavier than he was. "Buck Fitzpatrick" always trained hard and loved to mix it up. It was difficult to get sparring partners for him. Fitzie was a hard hitter and always went for the knockout.
Over the years, Fitzie would continue to work his talents by forming a boxing youth club in his hometown. There his club would win the Golden Glove Tournament. Fitzie stayed at home, raising his two children, Ronnie and Terry.
As a young boy, I remembered Fitzie as a huge man. Shoulders as wide as a doorway, arms as thick as logs, and his large barreled chess. Fitzie had big blue eyes and a charming smile. You could hear his soft and gentle disposition when he spoke. Although Fitzie was a no-nonsense kind of guy, he made time for enjoying life. Fitzie didn't talk much about his bouts. He never made excuses for any of his losses. I'll always remember the smell of his cologne and how well-dressed he was. Fitzie was a clean-cut guy!
World-ranked Fitzie Fitzpatrick often used (Frager) top-ranked professional boxing gloves and equipment. The name Frager can be seen on his boxing gloves in many of his big fight photos. For years, Fitzie wore the same Frager boxing shorts, as seen in numerous pictures. The label on the front of the shorts can be seen fading each year.
Sammy Frager, owner and glove maker, established his craft in Chicago, Illinois, during the 1930s through the mid-60s. Sammy Frager was born in Constanta, Romania, in the early 1900s and immigrated to America. His small shop was located near Randolph Street in Chicago. All of his sheep or lamb skin gloves were custom-made from a traced print of the fighter's hand. Mail-ordered custom gloves for many top boxers were a perfect fit, which was stitched on a couple of Singer sewing machines. Sammy took about six hours to produce a set of four fight gloves, which were then stuffed with goat hair. Later in the years, Frager gloves would be filled with foam, similar to today's modern fight gloves.
The Liston – Ali fights in the early sixties used Frager gloves. Liston had a 15" fist and was a regular customer.
Today, only Everlast and Reyes boxing gloves actually produce their own gear. Nearly all other boxing equipment is made in China, Pakistan, and Indonesia. The true art of hand-making boxing tools and equipment has gone with the wind, just like Sammy Frager and Boxing's Greatest Era.